MGB Biopharma Ltd
MGB Biopharma is a private company based in Glasgow, Scotland and is backed by a syndicate of Scotland's leading angel investor groups together with Scottish Enterprise. Antimicrobial drug resistance is recognised as a global public health concern with an urgent need for new antibacterial drug classes that are more effective than existing treatments. MGB is developing the first truly novel class of anti-infectives in over a decade that has the potential to treat infections of a number of the most important susceptible and resistant pathogens.
Pneumagen
Pneumagen is developing novel therapeutics in infectious disease and oncology: neumific and neumonco.
Mr Douglas Thomson
Director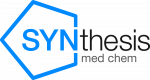 SYNthesis Research
Integrated drug discovery - hit identification, lead generation and lead optimisation using medicinal chemistry, computational chemistry and in vitro biology. Through long-term strategic alliances we incorporate X-ray crystallography, ADME/tox, in vivo PK, and in vivo disease models. Experience across a wide range of disease areas, such as respiratory, oncology and CNS, and biological targets, e.g. kinases, GPCRs, PPIs, NHRs & epigenetics. Clients located in the USA, Europe and Australasia.
Mr Simon Bury
Global Head of Business Development
Professor Andrew Wilks
Chairman